Look What Others Are Saying
About "Supper Swapping"
Chris said…

"Wow, what an awesome idea. Can I come live near you?"
Sunny said...

"Yum! I would love a supper swap in my area! What a cool thing to do."
Stephanie said...


"What a clever idea!!! Only cooking a couple of times a week...
can we say HEAVEN!!! Thank you for sharing."
Katy- "The Daring Young Mom" said...


What I love about Supper Swapping is that it's a little book packed with amazing recipes. Thacker contacted dozens of top-notch chefs and sorted through their best recipes, choosing those that would be easy enough to be reproduced by the masses..."
Whether it is just an occasional supper swap with a friend, or an organized club of "true believers," there are cooks and families banding together across the country to enjoy the many benefits of supper swapping.
Together they are saving time, saving money, eating better, and making friends. They are discovering a new sense of community through working together and sharing with friends and neighbors. Most of all, supper swapping is fun.
Hi, my name is Susan Thacker. I discovered my own form of supper swapping several years ago, and as a result I wrote a book on the subject, called, appropiately enough, "Supper Swapping." Since then I've made contact and shared ideas with many other folks doing similar things. Together we have become better and more inspired cooks, and better friends in the process.

We all know how hard and time consuming it is to cook for a family every night. With most women now working outside of the home all day as well as doing their best to provide healthy and delicious food for the family, there are simply not enough hours in the day. As a result, eating out and buying fast food is increasingly attractive, but this is really not an ideal substitute for a homecooked family meal at the dinner table.
Imagine cooking only once or twice a week, but having homecooked meals for you and your family almost every night. With one or more supper swapping partners this is possible.
Click the arrow above to listen to Dr. Laura's review of the book, "Supper Swapping."

Home cooking not only tastes better, but it costs less, offers more variety, and is usually more nutritious than eating out or getting "take out." The drawbacks are time spent cooking and shopping. Supper swapping is an efficient way to save time with both of these chores. And in this economy there is another MAJOR benefit- supper swapping will save you lots of money. You save money by buying in quantity, buying things on sale, shopping less often, less driving, and you save energy by using your oven less.
In a way, this represents a return to the traditional values of eating home-cooked meals at home with your family, sharing food and cooking duties with friends and neighbors, and saving money by shopping and cooking more rationally.
With so many demands on our time, it is tempting to just stop off on the way home from work and stock up on fast food or "take out" from a favorite restaurant. But the cost of this lifestyle is high both in money and in quality.
If you would like to cook and eat the kind of great homecooked meals that you had growing up, and that you your mother and grandmother prepared almost nightly, then you need help. Face it, with the hectic lives that most of us lead, there are simply not enough hours in the day to do it like they did.
In the "old days," alot of us lived within extended families, and we may have had several cooks in the home. If not, we usually had relatives living nearby, and friends and neighbors that we would share "pot luck" with. And certainly we weren't as tempted by "convenience food" as we are today.
That is why Supper Swapping was invented.
In her ebook, author Susan Thacker not only lays out the philosphy behind this new wave of working together with nearby friends, neighbors and co-workers, but packs it full of incredible recipes from some of America's best cooks and chefs. These recipes have been selected and tested to be compatible with the supper swapping system, and are sure to please your family, impress your relatives, and have your spouse introducing you as a "great cook."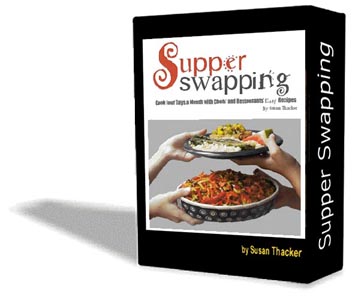 Supper swapping works for all sorts of folks: young couples, big families with lots of kids, "empty nesters," retired couples and singles. It works for good cooks who love cooking but don't have the time they'd like to spend doing it. It works for those who don't much love cooking, and are looking for ways to minimize their cooking duties.
Consider the benefits of supper swapping:
Save time by cooking more quanity less often

Save money by buying items in bulk

Enjoy dishes like turkey or roasts which are hard to cook for small numbers

Save time and gas by shopping less often

Avoid the boredom of fast food and "take out"

Eat fresh, high quality foods

Be inspired to cook your favorite dishes for others

Have fun and make new friends

Work together to cook healthy foods

Try cooking new dishes and get out of your old ruts

Take your cooking to a "higher level" without more work
More Than Just a Cookbook
The Supper Swapping Ebook is a great cookbook, but it is much more than that. It covers such topics as getting started, choosing a supper swapping partner, getting organized, low-carb cooking, models to follow, reducing stress, and having fun supper swapping.
Learn How From Top Chefs
But just as a cookbook alone, Supper Swapping is something special. Susan has interviewed some of America's top chefs from top-rated restaurants from across the county, and has induced these chefs to share with us some of their favorite and most popular recipes.

The chefs and restaurants include:


Chef Morou - Signatures Restaurant - Washington D.C.
Chef Mannino - Olives - Las Vegas
Chef Kraig Thome - University Club - Houston
Chef David Denis - Le Mistral - Houston
Chef Polo Becerra - Post Oak Grill - Houston
Chef John Coletta - Quartino - Chicago
Chef Lachowicz - Le Francais - Wheeling, Illinois
Chef David Bishop - Cafe Thirty-A - Seagrove Beach, Fl.
Euphemia Haye Restaurant - Longboat Key, Fl.
Knollwood Country Club, Granger, Indiana
Sevilla Restaurant - Santa Barbara, Ca.
Taste of Texas - Houston
Country Club of Tuscaloosa - Tuscaloosa, Al.
Chef Jamie Leeds - 15 Ria - Washington D. C.
Chef Anthony Susi - Sage Restaurant - Boston
Lodge At Sonoma - Sonoma, Ca.
Lawry's Prime Rib - Beverly Hills, Ca.
Edible arts - Franklin, Tn.
Jeff Vallone - Tony's Restaurant - Houston
Veritable Quandary - Portland, Or.
Ferrara Bakery & Cafe - New York
Chalet Suzanne - Lake Wales, Fl.
Rudi's Resto Cafe - Boston
The Gunther House - San Antonio
Hungry's Cafe & Bistro - Houston
Hudson's On-The-Bend - Austin, Tx.
Joe's Stone Crab Restaurant - Miami Beach, Fl.
Thyme Restaurant - Chicago
Salpicon! - Chicago
So, is your mouth watering yet?
You're probably wondering what this great book costs.

Well, quite a few copies have been sold for $19.99, and considering the quality of this content, and how hard the author has worked on this project, that price is a bargain!
But NO you won't need for fork over twenty bucks. Not even half that.
In fact, right now, until I regain my senses, I'll let you have this ebook (nearly 200 pages packed with value) entirely FREE OF CHARGE! (I told you I was crazy.)
Just fill out your name and primary email address in the form below, and I'll send you the PDF download in minutes. As a way of thanks, I'll ask that you spread the word about this site, and tell your friends, family members, and fellow cooks about this site, so that together we can make Supper Swapping into something greater than the sum of its parts. You can even "run with" my ideas and make the your own by adding your own twists.
Also, I'll soon be adding a blog and more videos to this site, so by leaving me your contact info (it will not be sold or traded), I'll keep you updated, we can share ideas and get to know each other, and I can continue to give you high quality content in the months and year ahead.
Go ahead! Join my list, and start enjoying Supper Swapping now!

Your email privacy will be respected.